Photon Records Reviews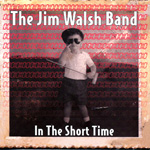 Jim Walsh Band "In The Short Time"
The Jim Walsh Band, "In The Short Time "
by Ted Vieira 
Personnel: Jim Walsh: Vocals; Steve Amend: Lead Guitar; P.J.  Sebastian: 12 String Guitar; Jill Winter: Bass; Paul Sabastian: Drums. In The Short Time is an original CD by The Jim Walsh Band, consisting of  eleven songs filled with strong writing, vocals and plenty of guitar. The  constant use of 12 string throughout the project gives the music a full rich acoustic quality. My favorite tracks on the CD were track 3, Gin Joint and track 5, Ivan,  because of their interesting rhythmic approach. Gin Joint starts out with a  nasty little guitar riff that sets the tone for the rest of the song, and Ivan takes you through a variety of interesting rhythmic changes that create an interesting flow. This is actually typical throughout the CD. To find out more about this CD and Jim Walsh Band, you can check them out online at: JimWalshBand.com.
  © 2000, Ted Vieira  

The LIE October, 2000
THE JIM WALSH BAND
In The Short Time (Photon)
There is an old-fashioned quality to the Jim Walsh Band that seems to enhance the experience.While all the songs on "In The Short Time" are original, there are echoes of past rock bands in the strings. The songs bounce between fun, quick country/rock to soft and exceptionally accomplished love ballads. Walsh's voice is at times dreamy and haunting, while their sound is smooth like a well-oiled machine.  Perhaps the most obviously clear aspect of "In The Short Time" is the chemistry between the bands members.  In not one song do you get the sense that the sound was forced.  "Forever", perhaps the best on the album, as well as "Nobody's Hero" are very impressive.  "Gin Joint" and "The Walk" are a  pleasure to the ears. Bands succeed because of their chemistry.  No matter of talents, if the sound doesn't come, then it doesn't come.  The Jim Walsh Band has got chemistry, talent, and the  sound does come on "In The Short Time".
© 2000, By Joseph Amorini

Relix Magazine - August 2000
THE JIM WALSH BAND
In The Short Time (Photon)
The Jim Walsh Band is a Long Island based five piece that delivers thinking man's rock and roll.  The band's second album, In The Short Time (Photon), is chock full of hook laden, guitar driven pop-rock. It's nothing complicated - just good, honest, blue collar rock and roll that's sure to make these guys regional heroes.  Best cuts are the infectious, Gin Joint and the power ballad, Forever.

THE JIM WALSH BAND
In The Short Time (Photon)
The Island Ear - May 8 - 21, 2000.
Few bands can successfully straddle the line between wild, party-time rock 'n' roll and introspective sentimentality without  falling prey to hokey accordion boot-stomping or drippy balladry.  Even fewer bands currently on the Long Island scene deliver such a synthesis as wholly and ideally as The Jim Walsh Band of Deer Park.  Proudly wearing their influences on their musical sleeve,  Mr. Walsh and Co. salute guitar rock legend Stevie Ray Vaughan  in the rowdy rockabilly boogie "Gin Joint", while the similarly  rollicking "Old Number 32" serves as an ominous commentary on  alcohol abuse.  Conversely, there exists softer, more heartwarming  moments, as found on the sweetly tender "Forever" as well as the yearningly delicate "Ivan".  Not only does The Jim Walsh Band  serve up a finely crafted and well-rounded work, but in the short time it takes to listen to, you will just as soon grow to love it.
© 2000 By Joshua Feigelman, The Island Ear.

THE JIM WALSH BAND
In The Short Time (Photon)
April Edition of The Glass Eye - Toledo, OH
3.5 EYES
Rock and Roll is not dead -- this album rocks. period. The Jim Walsh band is a great rock and roll band whose sound is far from being doctored in any way. There's something wonderful about a band that's all guitars and drums with none of the synthesizer studio-ized stuff that leaves you wondering if the band has any real  talent. Actually, this album leaves you wondering why this band isn't huge, touring and tearing up the airwaves like they deserve to be. They prove that they can roll out some of the best rock songs I've heard in a long time, but also crank out those ballads  reminiscent of Guns 'N' Roses and Foreigner. Oh, yeah!
In a time where our wonderful pop and rock heroes don't even  have to be able to carry a tune to have a good voice (ahhem -- can  you say Kid Rock?), Jim Walsh's voice is gloriously to the point.  His is a voice that should have fronted a band like Poison or Van  Halen in the '80s. This is a great album to listen to from beginning  to end. It's even car CD player worthy, and that's huge in my book. If you're a fan of rock and roll -- the real stuff, that is -- The Jim Walsh band will be right up your alley... I promise.
© 2000 By Andrea Bishop, The Glass Eye.

The Jim Walsh Band - In The Short Time (Photon Records)
(March Edition of Kaos2000.net Online Magazine)
Solid rock with subtle original twists. Nice use of acoustic guitars in a ballsy fashion of rock - ala Days Of The New (without the "wish I was Pearl Jam" sound). "Old Number 32" and "Great Big Disaster" could both be old (David Lee Roth era) Van Halen tunes with their raunchy bluesy approach. Jim's lower range vocals make the songs stand out. "The Walk" is a driving tune with a quick, raw lead guitar  break. In The Short Time is a strong and sure CD with  straight-forward rock. Good stuff.
© Phil Anderson - Kaos2000.net Online Magazine


MUSIC REVIEWS and More!
The Jim Walsh Band - "In The Short Time"
Photon Records
The JWB! Jim Walsh is one of the most recognized names in the Northeast's music scene.  He has performed at all of New York's "hot  spots" and venues throughout the region.  His voice commands attention  and the lyrics speak to just about everyone.
Acoustic guitar strength, music  industry acceptance, and songs that come from the heart and are performed with  passion are working  together to place In The Short Time into more CD players globally. "The JWB" has been compared to Days of the New, Alice in Chains, Guster and Al DiMeola with vocals.  Two tracks have a Morrison/The  Doors flavor especially with that great voice Jim  Walsh brings to the  party.  JWB acoustic strings are so endearing. "The JWB" should  consider a guitar album sans vocals. While Walsh himself sings and plays acoustic guitar he gives the lead honors to six string player Steve Amend,  PJ Sebastian and his 12-strings, and to Jill Winter and her bass guitar.  "The JWB" is  completed with PJ's brother Sebastian expertly playing his drum set like there is no tomorrow....
In The Short Time is the Walsh Band's second album release in a  year in a half.  Their first, The Say So, gave  them an appreciative  audience in and around their Long Island home turf and got  them  heard and charted far outside of New York.  In that short time  they're on their way to becoming an instant success.
© 2000 By Greg Ozime

Review
IN THE SHORT TIME
The Jim Walsh Band
Photon Records
Review by: Paul Hanson
Dailyvault.com
Get out your lighters, cuz the Jim Walsh Band's disc In The Short Time makes me feel like I'm at a heavy metal concert, the lights out, the band halfway through their set when they bring out someone like James Taylor to join them for a few mellow songs. What that disjointed imagery means is that this is not a metal CD, but it also doesn't suck.
Led by guitarist/vocalist Jim Walsh, these are songs that evoke a sense of hope. In the opening track, Walsh sings, "All I've ever wanted is you - because you're forever on my mind." Based upon an acoustic rhythm guitar, it'd be a stretch to compare this band to the recent efforts by acoustic acts like Days of the New, but it's a suitable stretch. Both employ excellent songwriting.
At just under 40 minutes, Walsh doesn't allow himself a lot of time to make an impression so each moment has to count. And it definitely does. By the time you reach "Little Pieces Of Her," the CD's fourth track, you realize Walsh can, quite simply, do no wrong. And by the time you reach the intro of "Nobody's Hero," you're thoroughly drenched in Walsh's hypnotic vocal style. Welding the sympathy invoking sorrow of James Taylor's "Fire And Rain" with the authority of a Steven Tyler, Walsh has a collection of noteworthy songs.  Definitely recommended!
RATING: A

Darren Paltrowitz
The Long Island Entertainment (The LIE)
"The acoustic guitar, few groups utilize it these days in hard rock besides on their occasoinal power ballad (No, I promise there to be no Winger references here...)  Most of the time when these few groups do use an acoustic guitar in one of their louder songs, its usually just placed in the background to provide more layering for an overall thick sound.  Fortunately, The Jim Walsh Band does things just a little bit differently as  they not only play Ovation acoustic guitars, but they endorse them.  Quite  an accomplishment in itself.  Before you go ahead and think that The Jim  Walsh Band is a group of soft balladry, let me inform you that they are  indeed comparable to groups like, Days of the New and Guster. The majority of their songs can be measured up to the Jerry Cantrell-penned  tunes from the catalog of Alice in Chains.  In other words, they may not  pack much distortion at all, but they do have an edge.  Luckily this time,  without the additional lead and harmony vocals of Layne Staley.  Or maybe this album could indeed be compared to "Alice in Chains: MTV Unplugged".  The Jim Walsh Band has already seen two singles from their  first album crack the Gavin AC Top 40, and most of the eleven titles on "In The Short Time" could just as well do the same!  As I was about to  compliment the group on their releases production... I found out that most  of the tracks had been recorded in one take!  Just plain impressive...
Darren Paltrowitz, the Long Island Entertainment.
Photon Gear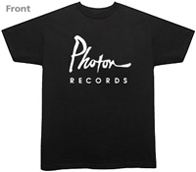 CLICK HERE and order your
Photon Records T Shirt!
Band Links







Contact
Steve Amend, President
Photon Records
samend@photonrecords.com