Photon Records Bands
An independent label developing talented artists.
Photon Records is proud of the tremendous talent that has worked with us. Below are the names of bands and links.

National Scream
Strike Twice
Laguna Ruin
Temptress
Side Show Virus
Cat's Paw Records
Dragon Aerogator
Neutron Cafe
Sarmoon Brotherhood
R.M.Dest
Alien Canopy
Southfourth
223 Park
aManDown
Dillusional Self
Foresaken
Jim Walsh Band
Hard Attack
Rychus Syn
Blame Daniel
Bonavia

Photon Gear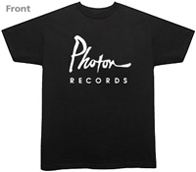 CLICK HERE and order your
Photon Records T Shirt!
Contact
Steve Amend, President
Photon Records
samend@photonrecords.com
Links
Ronald Cook, Esq.
www.roncooklaw.com