Photon Records Reviews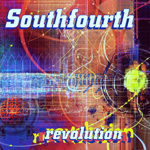 Southfourth "Revolution"
"The Long Island, NY-based quartet Southfourth enter the pop world with an engaging and promising debut album, Revolution, which seems destined to broaden their following. Having already scored a minor hit with "Perfect Everything," a significant song that exhibits the outfit's capabilities quite nicely, Southfourth leans musically toward the acoustic sensibility of the Dave Matthews Band circa Remember Two Things..That said, the group's most identifiable presence -boosted by her harmonious voice--is frontwoman AnnMarie Bugler.

At times recalling the vocal deliveries of Edie Brickell, Liz Phair and The Indigo Girls, Bugler shines on "Revolution," an uplifting composition and potential second single. Equally good are the brooding, atmospheric "Fallen" and the muscular "Otherside." With the latter, Southfourth, also consisting of adept guitarist Robert Fischer, bassist Alfonse Ochoa, and drummer Birt Michaels, provide a much-needed change of pace in an era of rap-metal and insipid teen pop.

"Rapture, " a forceful rocker, is a welcome rarity here. Ditto for the peppy, alluring jangle of "In My Own World." Elsewhere, structurally solid ..."

"...Revolution effectively chronicles Southfourth's balance of palatable acoustic strumming, trippy electric guitar experimentation, and likable melodies. Aside from a few weak moments, the group demonstrates remarkable potential that should be appreciated given today's pop climate."
John D. Luerssen www.music.com

Southfourth "Revolution"
Southfourth is one of the most refreshing post-alt bands to come down the GAJOOB pike in quite some time and it's great to see them getting some success, such as their spot at this fall's CMJ festival. Southfourth is a real band; the kind where each member contributes to a whole cohesive sound. AnnMarie Bulger's vocals are constantly captivating; and while the harmonies will instantly grab your attention simply 'cos no one's doing 'em quite like this these days, eventually you'll be blown away by how progressive her melody lines are, and how many chances she takes vocally within the hook-laden rock genre. AnnMarie sings the hell out of these songs. And Southfourth songs never settle for the obvious. It's also very refreshing to see a band lead by a female singer not resort to pimping. No, this is the real deal, friends. And while Alfonse Ochoa's bass happily weaves its hyperactive, strong bottom end around Birt Michaels' snap-crackle-pop drumming (melodic in its own right, I'll have you know), Robert Fischer's guitar work is up to its own bag of tricks. Fischer favors an acoustic/electric blend with bouncing, energetic rhythms (Johnny Marr comes to mind), but enfuses these songs with subtle touches that set the mood off perfectly while still exploring areas where most bands won't begin to wander. Southfourth is a band you should watch if you'd like to say, I knew 'em when.
Reviewed by Bryan Baker www.gajoob.com

Southfourth, Revolution
"Beginning with a "Goin' Down to Liverpool" lilt, Southfourth's "Revolution" takes off. And the Deer Park foursome could well be a more ethereal Katrina and the Waves-if Liz Phair replaced Katrina, Or maybe an airy Jen Trynin; that's not such a cockamamie idea. "Southfourth" shines forth like a surefire hit. Singer Ann Marie Bugler's vocal tease like a cute ex-girlfriend. She'll have you wrapped around her finger on this one. Ditto "Touch" (even if there is a trace amount of noodling). The album's first single, "Perfect Everything", feels like Buglers voice is riding a wave of jam-band indecision-either go to the Phishing hole or don't. Besides this minor affliction, however, the rest of Southfourth, guitarist Robert Fischer, bassist Alfonso Ochoa, and drummer Pat Post play with a clear pop sheen. Join the "Revolution"
By Kevin Amorim-Newsday

Southfourth "Revolution"
"Southfourth is a heavy-hitting, alternative, pop band which features the strong and feminine vocals of AnnMarie Bugler. Cool harmonies, driving back-beat, and excellent guitar-work are provided by Birt Michaels, Alfonso Ochoa, and Robert Fischer. This band is best when their songs move from insightful, alt verses into radio-friendly choruses such as track number 10 - "My Own World". The band is based in Long Island, New York and their music has appeared on soundtracks for independent films, cable TV, public television, and national radio programs.
Hit Picks: "My Own World" and "Revolution"
By Gail Petersen GoGirlsMusic.com

Southfourth: Revolution
"The New York-based band's CD, revolution features ten tracks of music that blends a combination of pop, rock, jazz and alternative sounds. Fischer's guitar solos are fresh and interesting. Definitely not your typical pop stuff here. Fischer also displays a lot of tight acoustic work on the project. Together, Fischer, Ochaoa and Michaels make a tightly-knit rhythm section, while AnnMarie's vocals glide over the top. Track 6, Rapture, was one of my favorites, combining Southfourths sound with a little bit of flavor that reminded me a little of the Police. Overall the project has a fresh sound with interesting vocal and instrumental textures throughout the CD."
By Ted Vieira Omni Guitar.com

REVOLUTION Southfourth-Photon Records
In the world of "alternative rock," the biggest challenge these days is to actually sound like an alternative to something, rather then just more of the same. There was an eruption of derisive laughter several years back when U2 won the "Best Alternative Album" Grammy, essentially reducing the meaning of "alternative" to "anyone hasn't been featured on Nickelodeon this month." Today there are hundreds of acts calling themselves "alternative" who play straight-ahead rock or pop, but crave the aura of hipness the "alternative" label still seems to carry.

All of which is to say that it's refreshing to find a band calling itself "alternative" that actually takes a fairly original, offbeat approach to its music.

Revolution, New York-based Southfourth's debut album, is built around the somewhat enigmatic musical personas of vocalist AnnMarie Bugler and guitarist Robert Fischer. The opening title cut begins with a layered, insistent acoustic/electric guitar melody that briefly suggests yet another earnest female electrified-folk singer-songwriter is on the loose - but things get interesting pretty quickly. Fischer's chord changes startle; Bugler stretches and twists her words in evocative ways; the "guitar solo" is a dreamy little jazz break; and the whole diverse concoction is anchored by a hook-filled, energetically affirming pop chorus.

"Progressive" is the word that really seems to apply here. Bugler, by turns languorous and ferocious, wraps her words around the music in a sensual dance that rarely loses the listener's interest. Fischer, meanwhile, coaxes a fascinating array of tones out of his acoustic and electric guitars, rarely content to go for the obvious musical choice. At one point I couldn't help speculating that this is what an album pairing progressive guitar maestro Robert Fripp with new wave goddess Deborah Harry might sound like - at least, before they tried to kill each other.

Still, the band's underlying pop sensibility is evident in the three-to-four-minute run time on every song, and especially on the album's current single, "Perfect Everything." Here Bugler's approach is warmer and throatier while Fischer's is more melodically straightforward, resulting in an infectiously catchy tune that could pass for Fleetwood Mac with Stevie Nicks on lead vocals.
Veering confidently off this path, the band peppers the subsequent "Southforth" with sudden tempo changes, unusual chord progressions, a vigorous chorus and a gently psychedelic guitar break. It's a frothy blend that works surprisingly well and, as you'd expect from the title, effectively characterizes the band's sound. It also features one of several strong turns by bassist Alfonse Ochoa, who anchors the rhythm section with drummer Birt Michaels.

Of the remaining songs on the album, my favorites were the alternately dreamy and furious "Rapture" (on whose early verses Fischer pulls off a dead-on Andy Summers impersonation), and the spacey power-pop of "In My Own World," whose slightly dazed/goofy lyrics lighten things up nicely at the close.

"Bottom line: Revolution is an intriguing, inventive, highly listenable album from a band that, unlike many of its peers, has earned the right to call itself alternative. We'll hear more from Southforth..."
Review by: Jason Warburg-The Daily Vault

Southfourth - Revolution
Alternative Pop
Southfourth is the type of band that comes along once in a blue moon and delivers a different style of music. The music differs from the mainstream, but still has it's place and turns a lot of heads because of it's originality. The vocals can be compared to the likes of Edie Brickell and Sinéad O'Connor while the music moves in the direction of the more alternative styles. Vocalist, Ann Marie Bugler has a great harmonious vocal style which blankets the music and adds a beautiful warmth to the groove. The musicianship is tight and well crafted, and the perfect touch for the superior songs that this band presents on this CD. All in all, this is one of those bands that many can appreciate and one with a lot of staying power. "Revolution" has great potential to be a career launcher for this band.
By Michael Allison - THEGLOBALMUSE.COM

Southfourth-Revolution
Blowing in like a cool summer breeze, Southfourth offers a compelling mixture of jazz influenced pop. This New York area four-piece band is fronted by AnnMarie Bugler, a female vocalist who sounds like a less angry Liz Phair. Bugler's voice is in the lower register and is layered with expertly crafted harmonies. A mixture of clearly recorded acoustic and electric guitars are complimented by a solid, upbeat rhythm section.
The opening track, "Revolution," sounds very similar to the chord progression of "Me and the Farmer" by the excellent 80's Brit-pop outfit, the Housemartins. The similarities end there, as Southfourth embraces a modern pop ethic while forging their own unique style. Chills may run up and down your spine as you listen to the vocal textures in "Fallen," while Robert Fischer's jazzy guitar chords in "Perfect Everything" will have you bopping to the beat. Fans of clever electric guitar patterns will enjoy this album, as the instrument is featured frequently ("Southfourth, "Touch"). Southfourth is a young band that has the songwriting and performance skills to achieve a large audience. If you like slightly-challenging pop/rock, then you need to check out Southfourth.
Reviewed by amp3.com august 2000

Southfourth - Revolution
AnnMarie Bugler is the lead voice for a group that has the sense and attitude of punk, while sticking to their fast rock guns. Robert Fischer is the element of guitars - sometimes putting in so much time, I'll bet he's a great Gatorade fan. Same for Birt (that's the correct spelling) Michaels on never-stopping drums. 'Otherside' has some great drum work, and a dreamy production quality that goes from reality to sleepy spirit (but I don't mean fall-asleep style!). Their 'Revolution' is much like that too, but in the fun friendship spirit of a Friends theme, or a fresh summer's day when no one's got any money, but it's great just hangin' together. It's top-down, change lanes quickly music for the guys and gals born in the 80s, free from war and all worries except having a hard drive big enough to convert all your Southfourth to mp3s. Sheer will to play, be heard, and be happy about the greatness of sound equipment. They are an open window in a house that smells slightly fishy.
Reviewed by Ben Ohmert

Southfourth, Revolution
"With guitars so clean they sound like they're going straight into the board, Southfourth's debut launches like ice cream trucks in summer. The vocals, by AnnMarie Bugler, are clean and clear as well, even when she's doubling up doing harmonies. The songs are lightweight, and that's not to be taken as detrimental. Somedays you're in a mood for something heavy, like steak, and somedays you'd rather have something refreshing, like club soda, all bubbly, and no calories. Southfourth just happens to be more like club soda. The third cut, "Perfect Everything," is riding up the charts, and it's a likable, fresh song. Sonically speaking, most of the songs are similar in tone and tempo, which is a bit distracting. "Rapture" gasses it up a bit when the chorus comes to town, but for the most part, the overall feeling is carefree and happy. And that's not bad at all. www.southfourth.com"
Reviewed by nyrock.com august 2000

Southfourth - Revolution
"A powerful combination of attention-grabbing material, interesting chord changes and voicings, an innovative guitar approach, strong female lead and harmony vocals, and a solid rhythm section..."Plenty of hooks and memorable choruses indicate a solid pop sensibility, while the overall feel may be best described as "progressive alternative..."
Roy Abrams-Inside Connection

Southfourth - Revolution
Southfourth is yet another female fronted pop-rock act in this great big musical world of ours. On their 10 track disc, these Long Island natives play it safe and go the jangly guitar and big female vocal route ("Fallen", "Southfourth"). Filled with candy coated melodies and hooky choruses, Southfourth really isn't as much a headturning outfit as they are a solid, well oiled hit machine. If you dig the female rock band that has pop sensibilities with great song structures, check these guys and girl out.
By www.316 productions.com

Southfourth - Revolution
"A powerful combination of attention-grabbing material, interesting chord changes and voicings, an innovative guitar approach, strong female lead and harmony vocals, and a solid rhythm section..."Plenty of hooks and memorable choruses indicate a solid pop sensibility, while the overall feel may be best described as "progressive alternative..."
By Roy Abrams-Inside Connection

Southfourth - Revolution
"Southfourth is the latest post-pop/alternative band who's songs captivate listeners through Annmarie Bugler's sultry vocal melodies, and Robert Fischer's tasteful tapestry of guitar chords that evoke color and harmony. Together with the bass lines of Alphonse Ochoa, and Birt Michael's drums, the band supports Annmarie's lyrics, strengthening and carrying the story to it's destination."
www.tunetrade.com

Southfourth - Revolution
"Southfourth's debut CD Revolution is a refreshing and energetic journey into the pop-alternative genre..."
More Music Magazine

"This group came to Spiral Lounge in NYC and brought the house down!
Alternative rockers, this band takes the energy flowing in the room and moves it to its own beat. With vocals from AnnMarie Bugler ringing out great songs about "Revolution," broken hearts and the simple things in life and driving guitar work by Robert Fischer backed up by drummer Alfonse Ochoa and drummer Birt Michaels it is no mystery why this group now is marked on national charts. We are proud to have this group rock out on our stages!.."
Spiral Lounge, NYC

"Southfourth has created an original and distinctive sound that stands out from the ordinary crowd of pop static. The music has depth, texture, and energy, the lyrics are fresh and interesting. The tunes have playing power that should garner a lot of attention on the airwaves and the charts. Southfourth is definitely onto something different, and music that's worth listening to... "
Lori Pickering

"Southfourth has compiled an intriguingly intense set of original, distinctive music on there debut album "Revolution" The songs on the album are filled with such depth, color and meaning, that they leave the listener wanting for more.

Lead singer/songwriter Ann Marie Bugler, has a very distinctive sound, haunting yet soothing, uplifting and touching. The words and underlying messages in her songs, leaves the listeners with an abundance of imagery and imagination, allowing for the songs to truly become their own."
New Music Weekly-A/C 40 "Artist Profile"

"Southfourth is a high energy alternative band..."
Good Times Magazine

"After listening to it (Revolution) I just had to write. The music is amazing, the lyrics are great, I just love it!..."

Photon Gear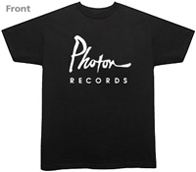 CLICK HERE and order your
Photon Records T Shirt!
Contact
Steve Amend, President
Photon Records
samend@photonrecords.com